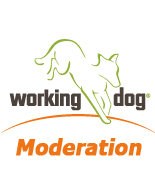 working-dog is the first interactive platform of its kind on which you can have a profile, network and receive information as a dog owner, breeder, trainer or association member.

working-dog is a central hub for all relevant information about everything to do with dogs. It presents the long history between owners, breeders and dogs on a multimedia platform. With its unique links between your dogs, images, videos, breeds and results, working-dog lets you share your passion for dogs with family and friends.

Our philosophy is that every user can and should add to information on working-dog. All information added is checked as soon as possible by our moderators and is either approved or deleted according to whether it meets our quality standards.
dog breeds and their moderators