Kennel von den brennenden Herzen


Breeder:

Telephone number:

Location:

Country:
Die Welpen kommen im Haus zur Welt, ziehen jedoch mit 5 Wochen in einen Welpenraum. Von dort können sie jederzeit in den Welpenauslauf, der wie ein Abenteuerspielplatz ausgestattet ist. Aufgebaut werden dort Geräusch- /Trieb- / Tast- /Sinnes- und Kletterspielzeuge, ein Tunnel, Bällebad. Ein tolles Erlebnis für die Welpen ist der Ausflug zum See (hierbei gewöhnen sie sich gleichzeitig ans Auto fahren). Spaziergänge in die angrenzenden Felder, Wälder und Bäche, in denen sie ausgiebig tollen und toben dürfen, gehören zum alltäglichen Ablauf dazu. Ab der 5. Lebenswoche dürfen die ersten Besucher kommen, gerne sind auch Kinder gesehen. Somit machen sich die neuen "Welpeneltern" mit ihren Schützlingen vertraut und fördern die Umweltzeize der Welpen.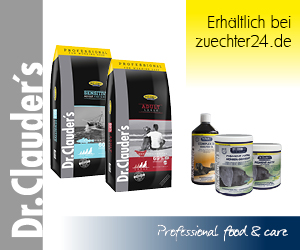 breeds
litter planning
breed with number in the litter

Race:

Belgian Shepherd

Date of birth:

Number in the litter:

Race:

Belgian Shepherd

Date of birth:

Number in the litter:

Race:

Belgian Shepherd

Date of birth:

Number in the litter:
+more
Die 7 Säulen der ganzheitlichen Tiergesundheit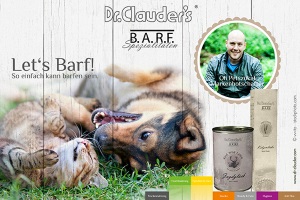 Dr.Clauder's bietet mit seinem Produktsystem alles, was Katze und Hund benötigen, um gesund, vital und schön mit uns zu leben und lat zu werden. Egal, ob der Mensch es komfortabel liebt oder die Beschäftigung mit der Ernährung seines Tieres zu seinen Steckpferden zählt und der persönliche Einfluss gewünscht ist.
Dr.Clauder bietet mit Best Choice by Dr.Clauder's für Hunde, Dr.Clauder's Katzenvollnahrung eine Super Premium Trockennahrung, mit Dr.Clauder's Selected Meat für Hunde und Selected Pearls für Katzen eine naturnahe, hochwertige Feuchtnahrung und mit Dr.Clauder's Function & Care Ergänzungsnahrung alles, was benötigt wird, um dem besonderen Nahrungsbedarf eines jeden Tages für jedes Tier gerecht zu werden. Gesunde und vor allem extrem fettarme Snacks runden das Sortiment ab.
read more