Kennel vom Hexengang


Breeder:

Telephone number:

Location:

Country:
breeds
litter planning
breed with number in the litter

Race:

Giant Schnauzer

Date of birth:

Number in the litter:
+more
Die 7 Säulen der ganzheitlichen Tiergesundheit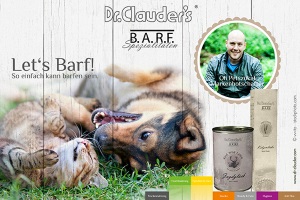 Dr.Clauder's bietet mit seinem Produktsystem alles, was Katze und Hund benötigen, um gesund, vital und schön mit uns zu leben und lat zu werden. Egal, ob der Mensch es komfortabel liebt oder die Beschäftigung mit der Ernährung seines Tieres zu seinen Steckpferden zählt und der persönliche Einfluss gewünscht ist.
Dr.Clauder bietet mit Best Choice by Dr.Clauder's für Hunde, Dr.Clauder's Katzenvollnahrung eine Super Premium Trockennahrung, mit Dr.Clauder's Selected Meat für Hunde und Selected Pearls für Katzen eine naturnahe, hochwertige Feuchtnahrung und mit Dr.Clauder's Function & Care Ergänzungsnahrung alles, was benötigt wird, um dem besonderen Nahrungsbedarf eines jeden Tages für jedes Tier gerecht zu werden. Gesunde und vor allem extrem fettarme Snacks runden das Sortiment ab.
read more