Kennel SchutzArt


Breeder:

Telephone number:

Location:

Country:
Kennel von SchutzArt is a Norwegian kennel registered in the Norwegian Kennel Club. von SchutzArt "First and foremost" - aims to breed Malinois with superior trainability, solid mentality and good health. We plan our litter for a long time, and saves no efforts to achieve the highest quality. We do not breed to a specific sport or purpose - our dogs will work towards service, police, IPO, rescue, LP, therapy, agility, mondioring etc. What is important is that when you sign your interest in a puppy from us - then you have to describe in detail what kind of dog you want or what purpose you puppy is for. Our puppies are delivered eight weeks old - we prepare puppies and spends much time with them from 4-8 weeks of age. Of course they are veterinarian approved and has the vaccines and worming occurring expected. They will also be delivered with chip, and pedigree from Norwegian kennel club. The kennel consists of Tom Thoresen and Laila Gulbrandsøy - we have competition experience from IPO on both Nationals and World Championship level, we've also competed in Obidience and other dogsport. Extensive experience in behavioral and problem dogs. We will be available to you at any time if you buy a puppy from us.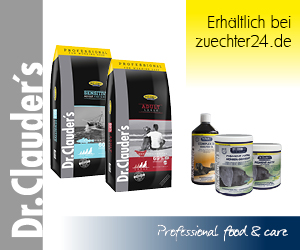 breeds
litter planning
breed with number in the litter

Race:

Belgian Shepherd

Date of birth:

Number in the litter:

Race:

Doberman

Date of birth:

Number in the litter:
+more
Die 7 Säulen der ganzheitlichen Tiergesundheit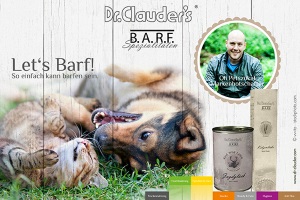 Dr.Clauder's bietet mit seinem Produktsystem alles, was Katze und Hund benötigen, um gesund, vital und schön mit uns zu leben und lat zu werden. Egal, ob der Mensch es komfortabel liebt oder die Beschäftigung mit der Ernährung seines Tieres zu seinen Steckpferden zählt und der persönliche Einfluss gewünscht ist.
Dr.Clauder bietet mit Best Choice by Dr.Clauder's für Hunde, Dr.Clauder's Katzenvollnahrung eine Super Premium Trockennahrung, mit Dr.Clauder's Selected Meat für Hunde und Selected Pearls für Katzen eine naturnahe, hochwertige Feuchtnahrung und mit Dr.Clauder's Function & Care Ergänzungsnahrung alles, was benötigt wird, um dem besonderen Nahrungsbedarf eines jeden Tages für jedes Tier gerecht zu werden. Gesunde und vor allem extrem fettarme Snacks runden das Sortiment ab.
read more